Family Newsletter
By Cristina Nguyen + Jason Stanford

●

May 06, 2022
Smart Brevity® count: 4 mins... 1126 words
🌟 Congratulations to St. Elmo Elementary School Principal Ben McCormack for being named H-E-B Excellence in Education Elementary Principal of the Year!
✅ Have you registered for the 2022-23 school year? The sooner we know how many kids will be in which schools, the sooner we can make sure we've got the right number of teachers in the right classrooms.
💉 Shots for Tots and Vax Together Austin are offering free childhood immunizations and COVID-19 vaccinations and boosters. (Sign up)
✡️ May is Jewish American Heritage Month.
Let's get to it…
1 big thing: It's graduation month!
To celebrate graduation month, we're sharing student success stories all month long. Keep an eye on the 2022 graduation page and follow along!
The first spotlighted grad-to-be is Northeast Early College High School scholar-athlete Austin Tharp, who made First Team Academic All-State.
Next up is Anderson High School innovator Aseel Rawashdeh, who won sixth place in the Regeneron International Science and Engineering Fair and an $80,000 prize from the Regeneron Science Talent Search for creating a low-cost, environmentally friendly mosquito pesticide.
The bottom line: We're #AISDproud of what we hope will be the last class to graduate in the COVID-19 pandemic that started when they were sophomores, and we bet you are, too.
Go deeper: Need to make plans about graduation ceremonies? We've got your details right here.
2. Affordable homes for Austin ISD families!
We have an exclusive offer for Austin ISD staff and families to own an affordable home through Austin Habitat for Humanity and Taylor Morrison.
Why it matters: The real estate market is bonkers lately. This is an opportunity to get some preferential treatment in the home buying process.
The details: The homes are being built on Austin ISD land that was sold with the contingency that if homes were built, 25% of those homes had to be affordable and offered to Austin ISD staff and families first.
The homes start in the $200,000s and go into the low $300,000s.

There are seven homes available for staff and families now, and an additional 23 homes will be available in 2023.
The bottom line: Austin ISD staff and families get first dibs through June 30, then the homes are opened up to the public.
If you're interested, sign up for notifications on available homes and you'll be contacted directly by a representative from the homebuilder.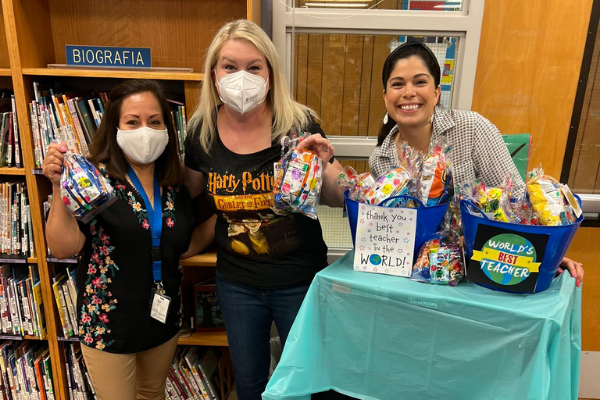 As Teacher Appreciation Week comes to a close, we want to take a moment to thank all our teachers for making Austin ISD so special for our students and families.
Why it matters: Our teachers are the most important factor for student success.
As our Superintendent Stephanie S. Elizalde likes to say, "The teacher is the program."
So how amazing are our teachers? Here are just some of the honors bestowed on our teachers this year:
Rebecca Lambdin-Abraham, who teaches P.E. at Maplewood Elementary School was recently named the best elementary P.E. teacher in the United States by the Society of Health and Physical Educators.

Joseph Oleniczak from LASA and Tara Bordeaux from Navarro Early College High School were finalists for the H-E-B Excellence in Education Awards this spring.

And let's not forget our Austin ISD Teacher of the Year Finalists who will be celebrated next week at Salute.
The bottom line: We have incredible talent in Austin ISD, and we're proud to celebrate with you.
🏫 The Liberal Arts and Science Academy and the  Ann Richards School for Young Women Leaders rank among the best in the country on to the 2022 list of top public high schools in U.S. News & World Report. (Statesman)
⚽ A Run for the Ages: The Story of How Northeast Soccer Shocked Texas (UT sports journalism students Adam Ogburn & Annie Thompson)
🔌 Austin Energy gave Austin ISD a $377,000 check for energy conservation. (Instagram)
🍖 Navarro ECHS came in 3rd in the High School BBQ Inc. state championship at Dell Diamond last weekend. (Facebook)
🏹 The Lamar Middle School archery team finished second at the 2022 National Archery in the Schools Program Western Nationals in Sandy, Utah. (Macjournalism)
🏘️ Austin ISD partners with Habitat for Humanity to build affordable housing for district employees, families" (KVUE)
5. Get involved this week
📍 The Austin ISD Redistricting Map #3 and Map #4 is hot off the press.
Map #3 introduces the possibility of orientating districts more east to west, while Map #4 is a more traditional approach.

Tell us what you think by completing the latest survey.
6. You might get to consider a long-range bond package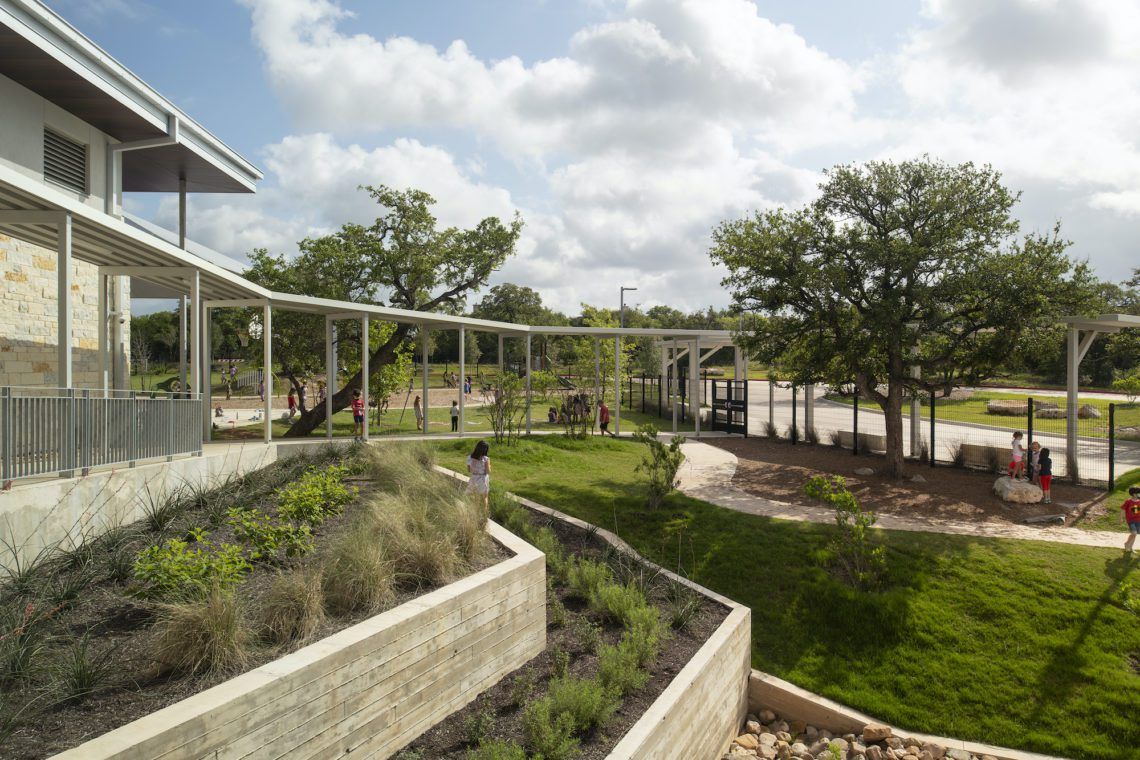 You might get a chance to vote for up to $1.5 billion for Austin ISD schools — that can't be taken by the state in recapture. 
Catch up quick: The Bond Steering Committee, made up of trustee appointees and community members, is considering the district's Long-range Plan, relevant data and bond capacity to develop a potential bond package for the November 8 ballot. 
Why it matters: Our aging facilities are negatively impacting students and staff throughout the district and putting a strain on our budget. 
Last school year, we spent $8.49 million on maintenance and repairs out of our regular budget.

That's money we could have used to give teachers bigger pay raises. 
And get this: When we pay for repairs like plumbing or HVAC out of our general fund, we're only getting $0.47 worth of repairs for each taxpayer dollar. 
Remember: 53 cents of every tax local dollar you pay gets taken by the state.

Bond dollars aren't subject to recapture, so they go twice as far.
Flashback: We identified more than $4 billion of needed repairs and improvements across the district back in 2017. 
The $1.05-billion 2017 Bond only began to address those issues. 
By the numbers: We're estimating we could go for between $1.2 and $1.5 billion over five years without raising the tax rate. 
What they're saying: Last week, the BSC discussed some of the trade-offs they'll have to consider given how much the need outstrips our funding capacity.
"At the end of the day, it doesn't matter if we pass an equitable bond if it doesn't focus on improving the student experience," said LASA student Nevin Hall, who represents the Technology Long-range Planning Committee.
👬 Jason is looking forward to his sons coming home from college.
💕 Cristina is excited to spend Mother's Day in San Antonio after going two years without seeing her abuelita and godmother.

Like this email style and format? It's called Smart Brevity®. Over 200 orgs use it — in a tool called Axios HQ — to drive productivity with clearer workplace communications.
---
Boletín informativo para familias
By Cristina Nguyen y Jason Stanford (Traducción por Margarita Ruvalcaba-Ordonez)

●

May 06, 2022
Smart Brevity® count: 5 mins... 1286 words
🌟 ¡Felicitaciones al director Ben McCormack de la Escuela Primaria St. Elmo por haber sido nombrado Director de Primaria del Año de Excelencia en la Educación de H-E-B!
✅ ¿Ya se inscribieron para el ciclo escolar 2022-23? Mientras más pronto sepamos cuántos niños habrá en cuáles escuelas, más pronto podremos asegurarnos de que tenemos el número correcto de maestros en los salones correctos.
💉 Shots for Tots y Vax Together Austin están ofreciendo las vacunas de la infancia gratuitas y vacunas y dosis de refuerzo contra el COVID-19. (Regístrense)
✡️ Mayo es el Mes de la Herencia Judíoamericana.
A las noticias...
1 Algo importante: ¡Es el mes de las graduaciones!

Para celebrar el mes de las graduaciones, estaremos compartiendo historias de éxito estudiantil durante todo el mes. ¡Estén pendientes de la página de graduaciones de 2022 y sígannos!
El primer graduando destacado es el alumno atleta de la Escuela Preparatoria de Universidad Temprana Northeast, Austin Tharp, que llegó al Primer Equipo Académico de Todo el Estado.
La siguiente es Aseel Rawashdeh de la Escuela Preparatoria Anderson, quien ganó el sexto lugar en la Feria Internacional de Ciencias e Ingeniería Regeneron y un premio de $80,000 de la Búsqueda de Talento en Ciencias de Regeneron por haber inventado un pesticida contra mosquitos ecológico y de bajo costo.
En conclusión: Sentimos #OrgulloAISD de la que esperamos será la última clase que se gradúe en la pandemia de COVID-19 que comenzó cuando ellos eran estudiantes de 10.o grado y apuesto que ustedes también.
Profundizando: ¿Necesitan hacer planes para las ceremonias de graduación? Les tenemos los detalles aquí mismo.
2. Viviendas asequibles disponibles para el personal y las familias del Austin ISD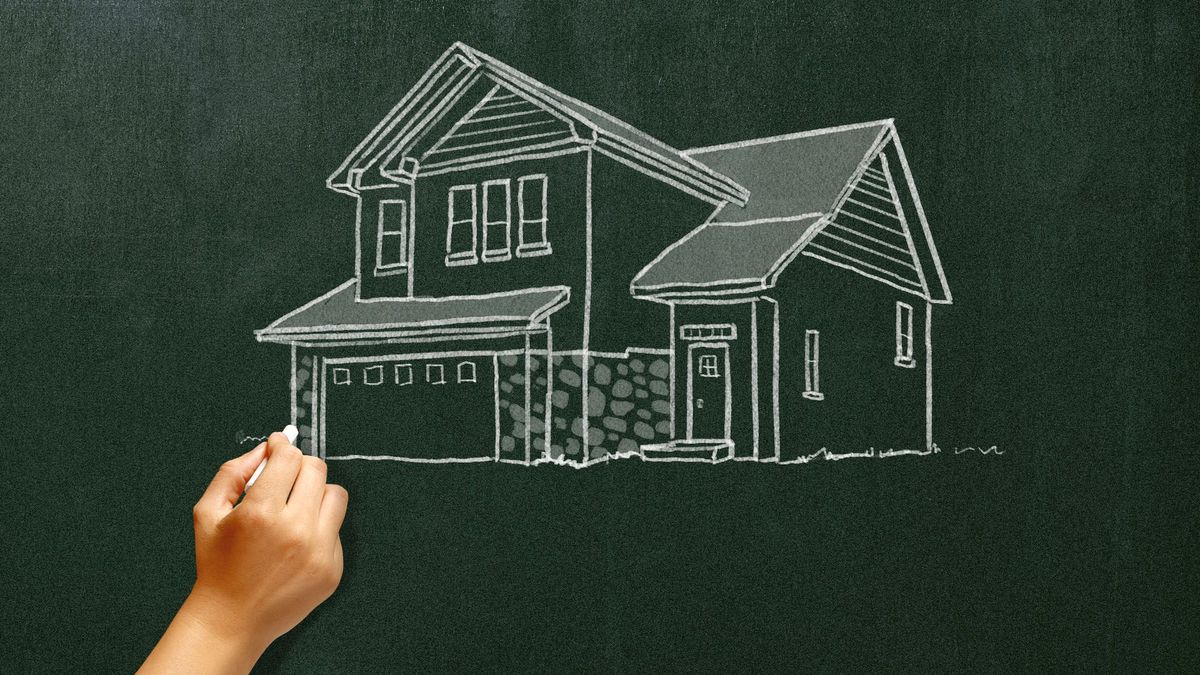 Tenemos una oferta exclusiva para que el personal y las familias del Austin ISD sean propietarios de viviendas asequibles por medio de Austin Habitat for Humanity y Taylor Morrison.
Por qué es importante: Últimamente el mercado de bienes raíces es una locura. Esta es una oportunidad para obtener un trato preferencial en el proceso de compra de vivienda.
Los detalles: Las viviendas se están construyendo en terrenos del Austin ISD que se vendieron con el requisito de que, si se construían, 25% de esas viviendas tenían que ser asequibles y ofrecerse primero al personal y las familias del Austin ISD.
Las viviendas cuestan desde los $200,000 hasta poco más de $300,000.

Hay siete viviendas disponibles ya para el personal y las familias, y otras 23 viviendas estarán disponibles en 2023.
En conclusión: El personal y las familias del Austin ISD serán los primeros en la lista hasta el 30 de junio, y después las viviendas se pondrán a la disposición del público.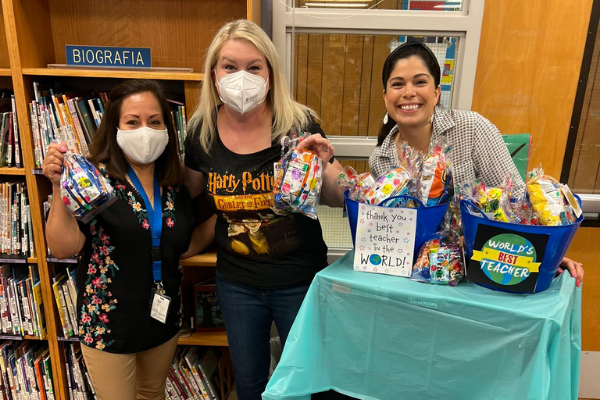 Al aproximarse el fin de la Semana de Agradecimiento a los Maestros, queremos tomar un momento para agradecer a todos nuestros maestros por hacer que el Austin ISD sea tan especial para nuestros estudiantes y familias.
Por qué es importante: Nuestros maestros son el factor más importante para el éxito estudiantil.
Como le gusta decir a nuestra superintendente Stephanie S. Elizalde, "el maestro es el programa".
¿Y qué tan increíbles son nuestros maestros? Aquí hay tan solo algunos de los honores rendidos a nuestros maestros este año:
La Sociedad de Educadores de Salud y Aptitud Física nombró a Rebecca Lambdin-Abraham, que enseña Educación Física en la Escuela Primaria Maplewood, la mejor maestra de Educación Física de primaria en los Estados Unidos.

Joseph Oleniczak de LASA y Tara Bordeaux de la Escuela Preparatoria de Universidad Temprana Navarro fueron finalistas en los Premios Excelencia en la Educación de H-E-B esta primavera.

Y no olvidemos a nuestras finalistas para Maestra del Año del Austin ISD, a quienes celebrarán la próxima semana en Salute.
En conclusión: Tenemos un talento increíble en el Austin ISD y estamos orgullosos de celebrarlo.
4. Resumen de las noticias
🏫 La Academia de Humanidades y Ciencias y la Escuela para Jóvenes Mujeres Líderes Ann Richards están entre las mejores en el país en la lista de las mejores escuelas preparatorias públicas de 2022 clasificadas por U.S. News & World Report. (Statesman)
⚽ Una carrera para nunca olvidar: La historia de cómo el fútbol de Northeast impresionó a Texas  (estudiantes de periodismo deportivo de UT Adam Ogburn y Annie Thompson)
🔌 Austin Energy le dio al Austin ISD un cheque de $377,000 por conservar energía. (Instagram)
🍖 La Preparatoria de Universidad Temprana Navarro obtuvo el 3.er lugar en el concurso estatal de High School BBQ Inc. en el Dell Diamond el fin de semana pasado. (Facebook)
🏹 El equipo de tiro con arco de la Escuela Secundaria Lamar terminó de segundo en las competencias nacionales del oeste del Programa Nacional de Tiro al Arco en las Escuelas en Sandy, Utah. (Macjournalism)
🏘️ El Austin ISD se asocia con Habitat for Humanity para construir viviendas asequibles para los empleados y familias del distrito. (KVUE)
5. Involúcrense esta semana
📍 El mapa de reordenación de los distritos n.° 3 y n.° 4 acaba de salir de la imprenta.
El mapa n.° 3 presenta la posibilidad de orientar a los distritos más de este a oeste, mientras que el mapa n.° 4 es una estrategia más tradicional.

Dígannos lo que opinan llenando la última encuesta.
6. Es posible que ustedes lleguen a considerar un paquete de bonos a largo plazo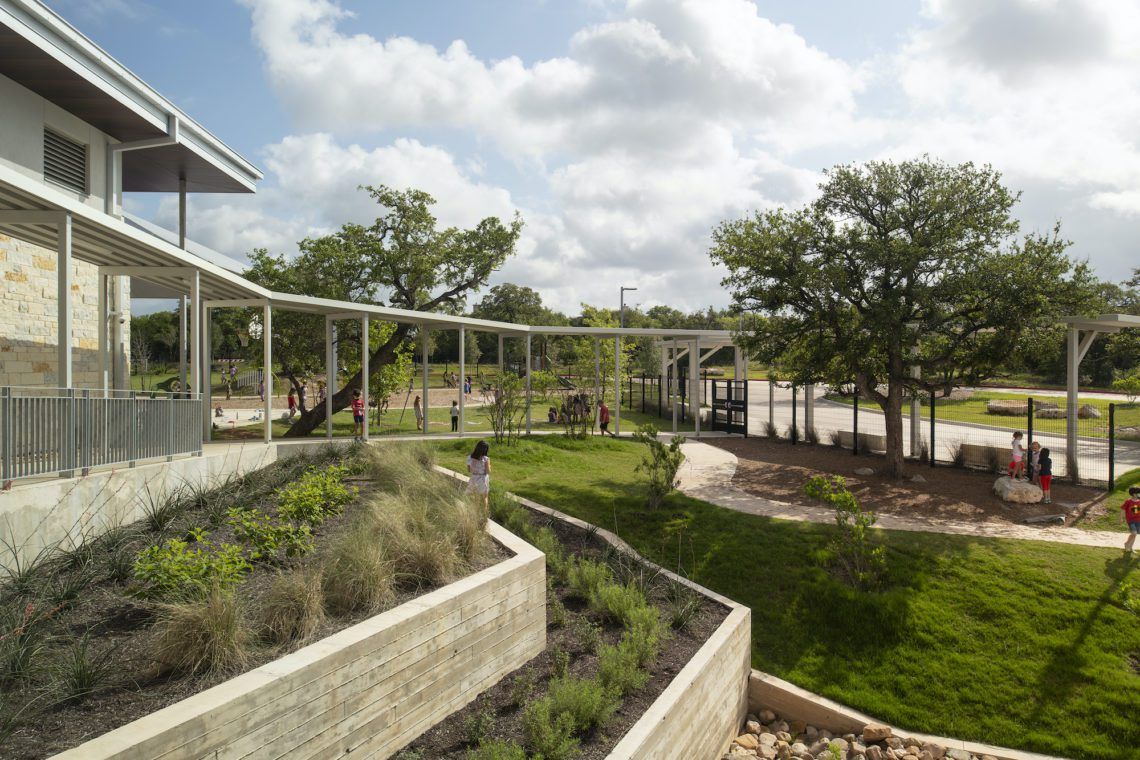 Podrían tener la oportunidad de votar hasta por $1.5 millardos para las escuelas del Austin ISD, que no pueden ser tomados por el estado en la recuperación.
Actualización rápida: El Comité Directivo del Bono formado por miembros de la mesa directiva designados y miembros de la comunidad, está considerando el Plan a Largo Plazo del distrito, los datos relevantes y la capacidad de los bonos para desarrollar un posible paquete de bonos para la votación del 8 de noviembre.
Por qué es importante: La antigüedad de nuestras instalaciones está impactando negativamente a los estudiantes y al personal en todo el distrito y afectan nuestro presupuesto.
El pasado ciclo escolar, gastamos $8.49 millones en mantenimiento y reparaciones de nuestro presupuesto regular.

Es dinero que pudimos haber usado para dar a nuestros maestros un mayor aumento salarial.
Y escuchen esto: Cuando pagamos por reparaciones como la fontanería o la climatización con nuestro fondo general, sólo estamos recibiendo 47 centavos en reparaciones por cada dólar de los contribuyentes.
Recuerden: 53 centavos de cada dólar que ustedes pagan de impuestos locales los toma el estado.

Los dólares de los bonos no están sujetos a la recuperación, por lo que rinden el doble.
Retrospectiva: En 2017 identificamos más de $4 millardos de reparaciones y mejoras necesarias en todo el distrito.
El bono de $1050 millones del bono de 2017 solo sirvió para comenzar a abordar esos problemas.
Según las cifras: Estamos estimando que podríamos ir por entre $1200 y $1500 millones durante cinco años sin aumentar la tasa de impuestos.
Lo que están diciendo: La semana pasada, el BSC discutió algo de las compensaciones que se tendrán que considerar dado que las necesidades superan nuestra capacidad de financiamiento.

"A fin de cuentas, no importa si aprobamos un bono equitativo si no se centra en mejorar la experiencia de los estudiantes", dijo el estudiante de LASA Nevin Hall, que representa al Comité de Planificación a Largo Plazo de Tecnología.
👬 Jason ya está ansioso de que sus hijos vengan a casa de la universidad.
💕 Cristina está emocionada de pasar el Día de las Madres en San Antonio después de dos años de no ver a su abuelita y madrina.
Feedback
Anonymously tell us what you thought of this newsletter. Your responses will help us create better content for you!
Was this edition useful?

Like this email style and format? It's called Smart Brevity®. Over 200 orgs use it — in a tool called Axios HQ — to drive productivity with clearer workplace communications.